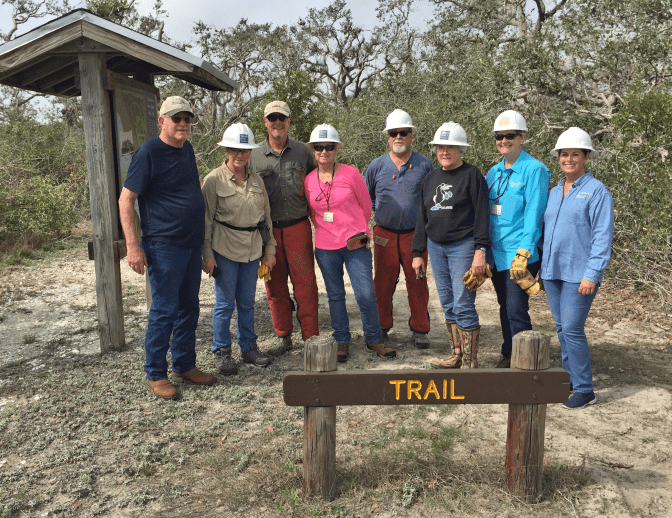 Mid-Coast Master Naturalists cleared trails at Goose Island State Park on Friday, February 23:
Joe and Pat Garland, Bill Burge, Debbi Roskey, Phil Stapleton, Kris Kirkwood, Marilyn Stewart,
and Rebecca Stapleton. Still out on the trail: Neill Amsler and KarenLee Rystad
This from Kendal Keyes, TPWD: 
Thanks to the entire group for all the great work done yesterday at Goose Island. The trails look terrific. I walked the entire length yesterday and the entire trail is open and looks perfect. The group of ten worked for 3 to 4.5 hours and cleared five large areas where trees blocked the trail. Attached is the group photo, minus Neill and KarenLee who were still hard at work! I am cc'ing our Adminstrative Assistant, Zane, so she can include this info in our next newsletter.
Next Opportunity: Want a chance to help with the new Big Tree Natural Area at Goose Island? A Big Tree Workday for Mid-Coast Master Naturalists is scheduled for this Wednesday, Feb 28th beginning at 8:30. Check your email for details.
Coming soon: The new bird-watching area needs some carpentry and fencing work.