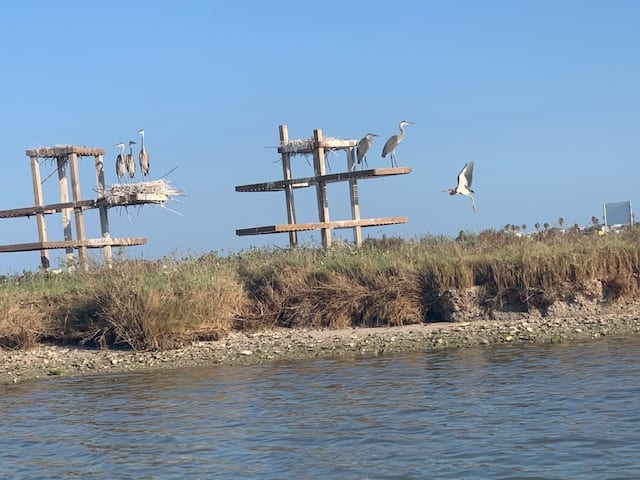 Salt Lake Rookery Habitat Restoration and Clean-up is now confirmed for Friday November 6, 2020 beginning at 11 am. This event is sponsored by Mid-Coast Texas Master Naturalist, Keep Aransas County Beautiful, and Coastal Bend Bays and Estuaries Program. Meeting place will be 59 Copano Ridge in Rockport.
This project consists of installing 2 heron platforms and general clean-up of two existing rookeries. Bring work gloves and a reusable water bottle. If you have a machete, potato rake, or shovel, those will be helpful. Of course we will be following COVID-19 guidelines, so you must wear your mask at all times. You are welcome to bring your own kayak, but it is not necessary. We will have one or two bay boats. KACB president and MCTMN'er D'Ann Williams is providing all the building material, and KACB will provide clean-up bags. Snacks and water will be available. Email Vickie or call her at 512-565-3868 for more information.
Vickie plans to spread sunflower seeds on the islands soon, so if you are interested in collecting local seeds and/or helping plant, email Vickie.
Report as RM: Other Locations. Specify Salt Lake in the description.