By Karen Benson, certified Texas Master Naturalist
Just when I think I have seen every weird thing in nature, something new surprises me.
Recently after a hard rain shower, a bunch of strange red bugs crawled out of the ground on a ranch in Cadiz, Texas (which is pronounced "KAY-dees" as you probably know.) The soil in the Cadiz community is mostly sandy, and these small creatures came out of silk-lined tunnels in the sand.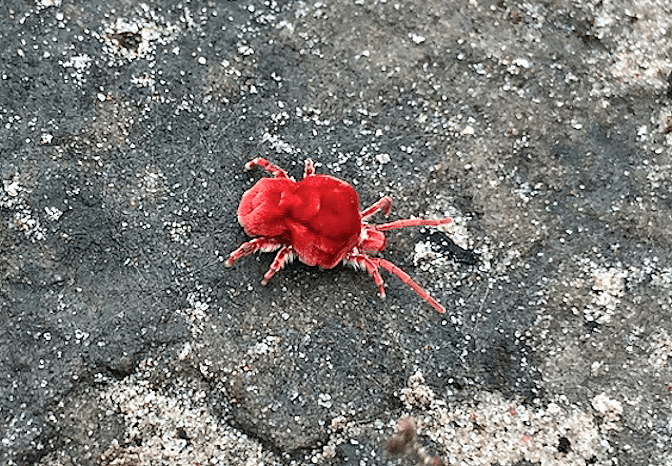 Tess Thornton Photo
This is not a "Beanie Baby" but an actual bug! This half-inch-long creature is called a Giant Red Velvet Mite, because regular mites are much smaller. It looks like a dimpled velvet sack with eight legs. These mites come out of the soil after heavy warm-season rains and are thus nicknamed Summer Rain Bugs. Children of all ages are delighted by these tiny animals. Each bug was about a half-inch across and it was covered in bright red fuzz. They looked like little red velvet sacks with dimples. You wouldn't even know they were bugs until you saw them moving around on tiny legs. Eight legs, in fact.
Well, that cinched it: these bugs were arachnids, cousins to spiders, ticks, and mites. But unlike any other arachnid I know of, these Summer Rain Bugs were cute! They reminded me of tiny "Beanie Babies" covered in red plush fabric.
An Internet search turned up the real name for these bugs: Red Velvet Mites. There are a number of species of Red Velvet Mites found around the world. Most are tiny, less than a tenth of an inch across. But in India and here in the southwest United States, we have Giant Red Velvet Mites. Our species is called Dinothrombium magnificum and the adults max out at about 0.5 inches. The India species, Trombium grandissimum, can get to 0.8 inches long!
Giant Red Velvet Mites are completely harmless to people, pets, and plants. They are insectivores. The mites' larval forms are parasitic blood-suckers on insects like grasshoppers. Adult mites have fang-like mouthparts they use to kill and eat insects, particularly those that come out after a heavy summer rain, like the desert termite. The reproductive, winged stage of the desert termite emerges to mate in nuptial flights after such monsoon rains. The desert termite is a favorite food item for the Giant Red Velvet Mites, but the mites have to hurry. The mated termites drop to the ground, bite off their now-useless wings, and proceed to bury themselves in the soil as fast as they can.
The Giant Red Velvet Mites feast for a few hours after rains and then return to their own burrows. Much of the time they hibernate in those burrows, but when conditions are right, they come out to engage in a remarkable mating ritual.
The male mite builds a "love garden" of small twigs and grass stems. He deposits sperm packets in bubble-like dollops around on the twigs. Then he goes out and lays a trail of silken fibers leading to the garden. He waits for a female mite to happen by and be charmed by the silken trail. If the trail is not enough to entice the female to enter the bower, then he does a special little dance. Sometimes she joins him in this dance. When she is convinced that he is a suitable mate, the female mite follows the silken trail to the garden. There, she sits on one of the sperm bubbles and fertilizes her eggs. She soon lays these eggs in the soil. When the eggs hatch, the tiny larvae began to feed on small insects in the soil.
You would think a fancy, bright-red mite would be easy picking for a predator. It turns out that almost nothing preys on Giant Red Velvet Mites. Scientists have experimented by putting the mites in the path of lizards, birds, and other predators. Most completely ignore the mites. The odd individual that chomps down on a mite soon spits it out. Red Velvet Mites are distasteful because their bodies contain an antifungal oil. They evolved the antifungal oil to protect themselves in the world of decomposition in which they live. Presumably, the red color evolved as a warning to predators that they were not good to eat.
In India, the Giant Red Velvet Mites are collected, dried, and used as a medicine. The dried mite powder or oil is sold in the bazaars. There is anecdotal evidence that the dried mite can cure paralysis. More often the dried mite oil is sold as an aphrodisiac, particularly for men. The oil is sometimes referred to as "Indian Viagra." Considering how distasteful the mites are, I suspect the partakers are quite desperate.
In the United States, the Giant Red Velvet Mites are considered to be a rare novelty of nature. They only appear for a matter of hours after warm-season rains. In years without good rains, the mites don't come out at all. Children are especially delighted by the plush little bugs and let them crawl on their hands and arms. They tickle, but do not bite.
In Cadiz, my friend Nancy Lawson introduced her daughter Tess to the little red charmers while she was growing up. Nancy and Tess would watch for the mites every summer. A recent rain triggered a mass exodus of the mites from the ground around her home and she had the pleasure of introducing her grandson to the delightful Summer Rain Bugs.
I hope you and your children and grandchildren get to see these amazing Giant Red Velvet Mites in your area this summer. Watch for them!